Is Biden's vaccine patent waiver another empty promise?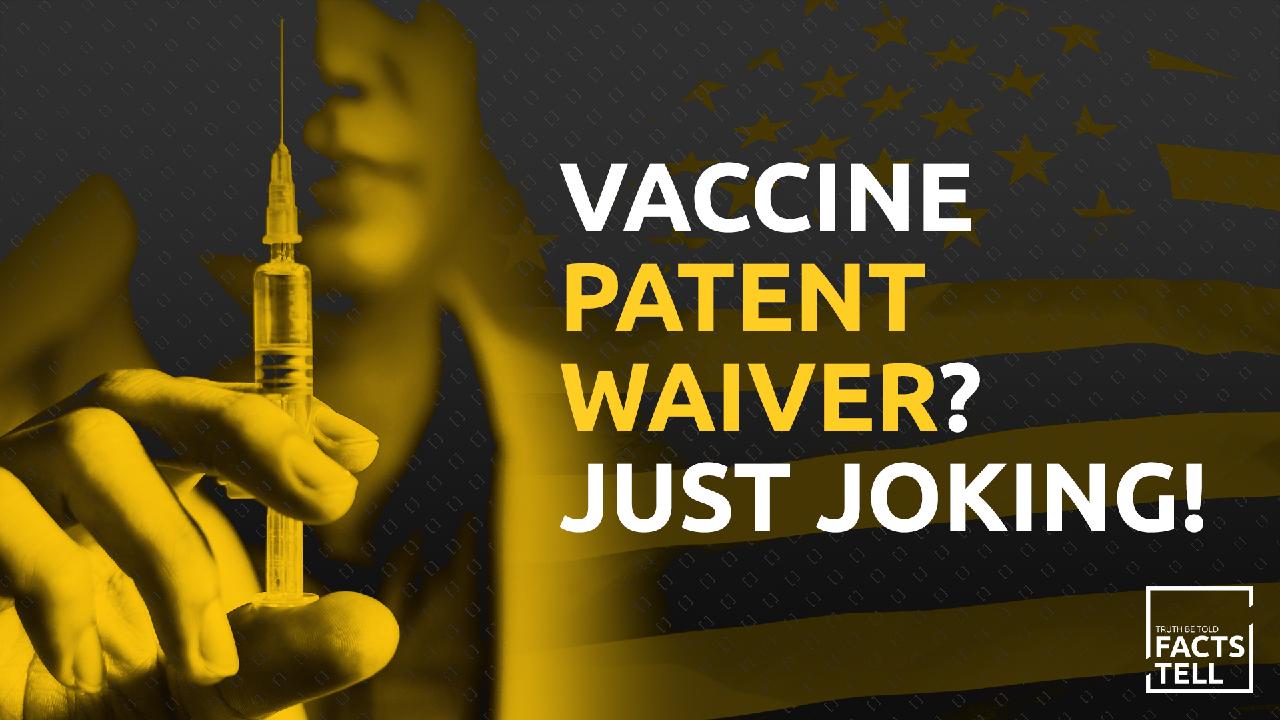 Earlier this month, the U.S. government announced it would support a patent waiver for the COVID-19 vaccine.
As soon as he ran for President of the United States, Biden publicly pledged not to let "any patents stand in the way" of the mass production of COVID-19 vaccines. Now her administration has finally sounded again, making it clear that she will not break her promise.
U.S. Trade Representative Katherine Tai said in a May 5 statement that the Biden administration supports waiving intellectual property protections for COVID-19 vaccines. She said the goal was to "get as many safe and effective vaccines to as many people as possible as quickly as possible."
However, this move, described as a "shock" by nature, sparked enormous controversy in many quarters.
The American private sector says "NO"
First, U.S. manufacturers of COVID-19 vaccines, such as Pfizer, immediately spoke out against it. In an open letterPfizer chief executive officer Albert Bourla said the Biden administration's proposed patent waiver would "disrupt" manufacturing and "endanger everyone's safety."
Despite this alternative argument, the economic benefits of vaccine patent protection may be the most fundamental reason Pfizer opposes this proposal. A Guardian report in March found that over the past 12 months, the share price of Moderna, one of the world's leading providers of COVID-19 vaccines, has risen 372%. And Pfizer COVID-19 vaccine revenue is expected to reach $ 26 billion in 2021.
The vaccine patent waiver proposed by the Biden administration will be a blow to these drug companies. In fact, the market reacted almost instantly. Stock prices of vaccine makers, including Pfizer and Moderna, plunged immediately after Katherine Tai's statement.
And more fundamentally, this scenario raises a crucial, long-term question: If patents are being abandoned in this pandemic outbreak, should they be abandoned in all future outbreaks, no matter how unhappy they are? And given that patent protection is the vital financial lifeline of nearly every vaccine manufacturer, will any one of them always be willing to shoulder the impressive risks and costs to develop and produce a vaccine? vital vaccine as they did this time?
The whole "patent" is complicated
Giving up patents on COVID-19 vaccines is much harder to do than it is to say.
The patent issues involved are not as straightforward as a patent for every vaccine. Each stage of development and production involves many technologies, methods and techniques, which means countless holders of these patents and licenses.
Preliminary research paper recently published in Nature Biotechnology revealed that the production of mRNA vaccines involved numerous patents and licenses held by various companies, government departments and research institutes.
The Biden administration must not only negotiate with countless stakeholders to waive patents on COVID-19 vaccines, but must also be prepared to deal with contradictions and disputes caused by countless stakeholdings of interests.
Doubts and demystifications from other countries
In addition to causing a sensation in the United States, the Biden administration's proposal has sparked equally strong skepticism internationally. In the opinion of many European leaders, the Biden administration is saying one thing and doing another.
"The priority today is not patents, it is not true," said French President Emmanuel Macron. "Of what we produced, we let 50 percent be exported. In the United States, in Britain, 100 percent of what was produced was consumed in the domestic market."
The mRNA vaccines from companies such as Pfizer require highly specialized and sophisticated techniques that are simply not available to most pharmaceutical companies in the majority of developing and less developed countries. So, at this point, sharing more of the available vaccines with these countries is much more effective. However, under the Biden administration, as French President Macron has said, the United States has done little in this regard.
In the face of a global pandemic, vaccines are expected to be more widely and more fully public. But let's not forget that the COVID-19 vaccine is a scarce resource around the world, mostly produced by private manufacturers, which means the issues are complex and complex.
When politicians campaign, they are nothing but visionaries, and the promise of the idealistic sweep will help them garner votes. But when a politician rules and becomes that problem solver, the question of how to keep that promise should be at the heart of it all. The altruism of words will not reach his idealistic vision.
Whether it's releasing the COVID-19 vaccine patent or, more fundamentally, helping the world fight the pandemic, when and how will the Biden administration really take that very first step? The world will watch.